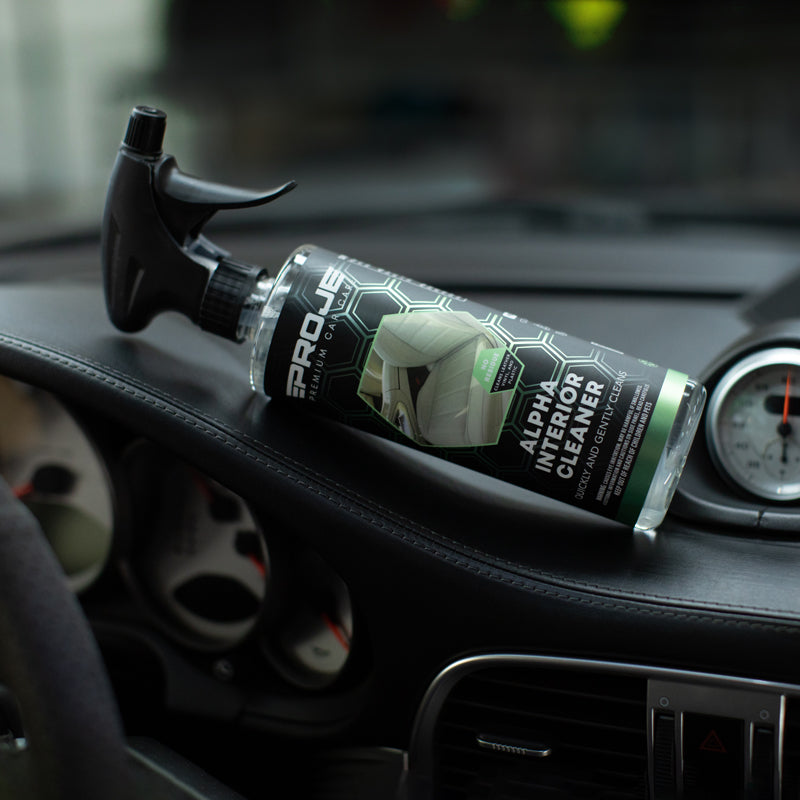 Alpha Interior Cleaner
$11.99
Key Features
PH-NEUTRAL FORMULA - Alpha Interior and Leather Cleaner is non-toxic, with pH neutral cleanser that is safe to the overall interior surface of your car. Alpha is a nontoxic cleaner that is made from small batches that ensure quality and effectiveness.
ALL PURPOSE CLEANER - Our product removes spots, dirt, grime and grease stains on the interior of your car with ease, giving that professional new and fresh vibes for a great value.
SAFE ON ALL SURFACES - The colorless  Alpha Interior Cleaner gently cleans all types of surfaces including glass, leather, plastic and Vinyl and enhances protection for your car interior.
EASY TO USE -  Simply spray the Alpha cleaner on any surface or microfiber cloth and use a damp cloth or sponge then apply in circular motion until dirt, grime and grease is gone. Gently wipe down the remaining soap on the surface.
FAST CLEANING SOLUTION - Alpha cleaner has a quick dry formula; No Heat and No Sickness after application. Bring back the life of your car interior like a pro with our Alpha Cleaner
Product Description: 
Alpha Interior Cleaner is an effective all-in-one cleaner pH-balanced formula that quickly and gently cleans all surfaces, including glass, leather, vinyl, and plastic. Effortlessly removes dirt, oil, tough stains, and grime. A non-toxic cleaner that is made in small batches to ensure quality and effectiveness. Choosing from the wide range of products for your vehicle interior can be challenging, especially when modern and high-end vehicles contain a colorful mixture of different surfaces, mainly vinyl, plastic, and leather. We know leather to be a high-quality product; of course, you want to ensure that you use a safe and high-quality cleaner to match. Alpha Interior Cleaner will penetrate your leather and work from the inside to lift out dirt, oil, and grease to preserve the quality with no residue or deterioration. Better yet, it'll take dirt straight off your other surfaces, too, so you can just keep using it until your whole interior is done! Our specially-designed formula is not only pH neutral, it's colorless which leaves no residue on your surface. As leather ages, it cracks, which can mean that dirt penetrates more efficiently, and untreated cracks can turn into splits and, eventually, tears. Alpha Interior Cleaner helps to protect cracked areas from further damage, giving you a longer and cleaner product life. At Proje we have come up with a blended cleaner that is tough on dirt and grease no matter the surface. One bottle can be used as your interior cleaning solution for all surfaces.
Why Proje? 
Proje is a proud US Manufacturer based in Los Angeles County California. With more than 25 years of car care manufacturing experience, our passion has always been on providing quality products that provide quality results and keeping vehicle surfaces healthy and clean. Make the Process easier and enjoyable with Proje.
Alpha Interior & Leather Cleaner – Removes Dirt from All Surfaces
Light Cleaning
Always make sure you're working out of direct sunlight – a garage is ideal for this kind of work. Spray Alpha Interior & Leather Cleaner onto a clean White Intensive 2-Sided Interior Towel and wipe away the dirt. For this kind of quick, superficial work, use the soft microfiber side of the towel to ensure best results.
Mild Cleaning
For slightly deeper cleaning, we want to get the active ingredients working through lathering. This time, spray Alpha Interior & Leather Cleaner directly on the surface you are going to clean and agitate the solution with our Easy Reach Crevice Brush. Our brushes are designed to remove stains but be soft enough that they will not damage the integrity of even your softest surfaces. Once you have generated a good lather, use your 2-Sided Towel to wipe away the solution. Again, use the microfiber side or for a firmer wipe, use the terry weave material side.
Heavy Cleaning
For tough stains and older surfaces, layers of dirt and oil or grease may have built up. Each time a new layer arrives, it pushes the previous layer deeper into your leather, so this means you will need to repeat the mild cleaning process a few times. This helps to remove each layer and leaves your leather looking and smelling brand new again.
Suggested Product Pairings
White Intensive 2-Sided Interior Towel
The White Intensive 2-Sided Interior Towel is specifically designed for Proje's Intensive Processes. One side of the towel is constructed with terry weave material and the other side a soft microfiber, meaning that you can change up the amount of friction applied depending on the softness of your interior surface. It's the perfect combination for light duty cleaning, wiping and protection application.
Easy Reach Crevice Brush
The Easy Reach Crevice Brush makes cleaning the small cracks and crevices of your interior simple and effective, saving you time and energy. Paired with the Alpha Interior & Leather Cleaner, it will make light work of any tough-to-reach greasy patches on your interior. It's safe on all plastics, leather and interior trim and is specially designed to reach into any crevice, no matter how small, awkward or angular.
Leather Scent
There's nothing like walking into a space and smelling the fresh aroma of leather hide. Sadly, this smell fades over time and is replaced by the everyday odors that build up in your aging leather. You can get that smell back with Proje Leather Scent! Not only can you recreate a fresh smelling car but you can also rid your car of unwanted surface odors with one simple action, lightly mist the interior of your car whenever desired. After using Alpha Interior Cleaner & Leather Cleaner and our Proje Leather scent, you'll have new-looking and new-smelling leather.
Reviews on TrustPilot, Amazon, and Facebook
William Smith
This takes the anxiety of when to buff off from "flash times." I purchased the prep and ceramic bottle bundle, and the process was extremely easy, leaving a deep and glossy shine. I saw the ad on social media and decided to give them a chance, I'm glad I did! I'll definitely be using their products for a long time.
Jane Sy
I was skeptical when I first saw the ad for the ceramic coating, I purchased a bottle and tried it and I was amazed by the results! I almost purchased a tiny bottle from another company for over $150 I am glad I came across this before I did! Yes I use proje products on my nissan skyline r32!!
Jack Bailey
This stuff is amazing. I've tried a few other sio2 coating and of course butter wax and things. But this stuff blows them all away! Awesome shine. Awesome hydrophobic properties. Nothing wants to stick to my truck now. Just wash away with water! Awesome product! I'm satisfied.