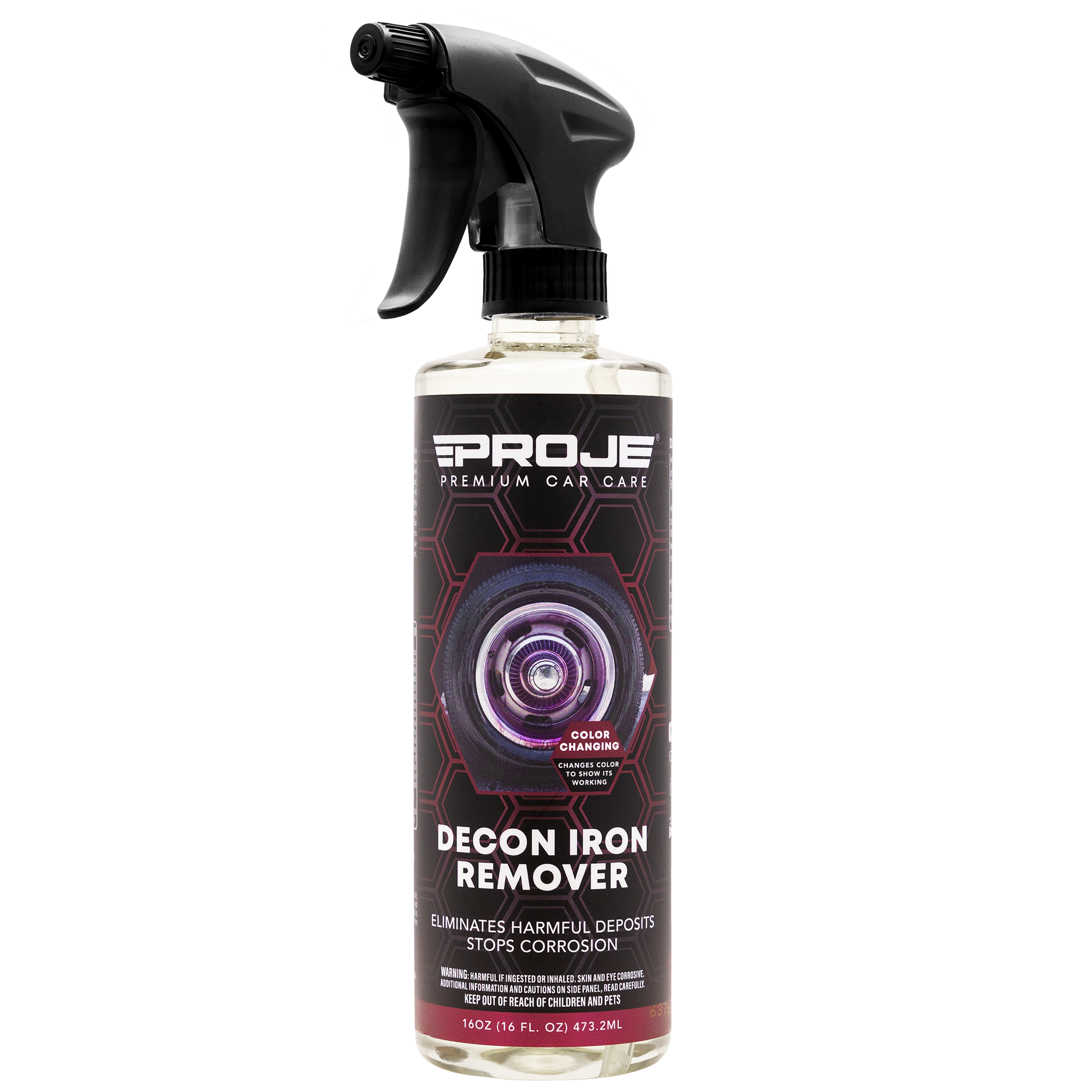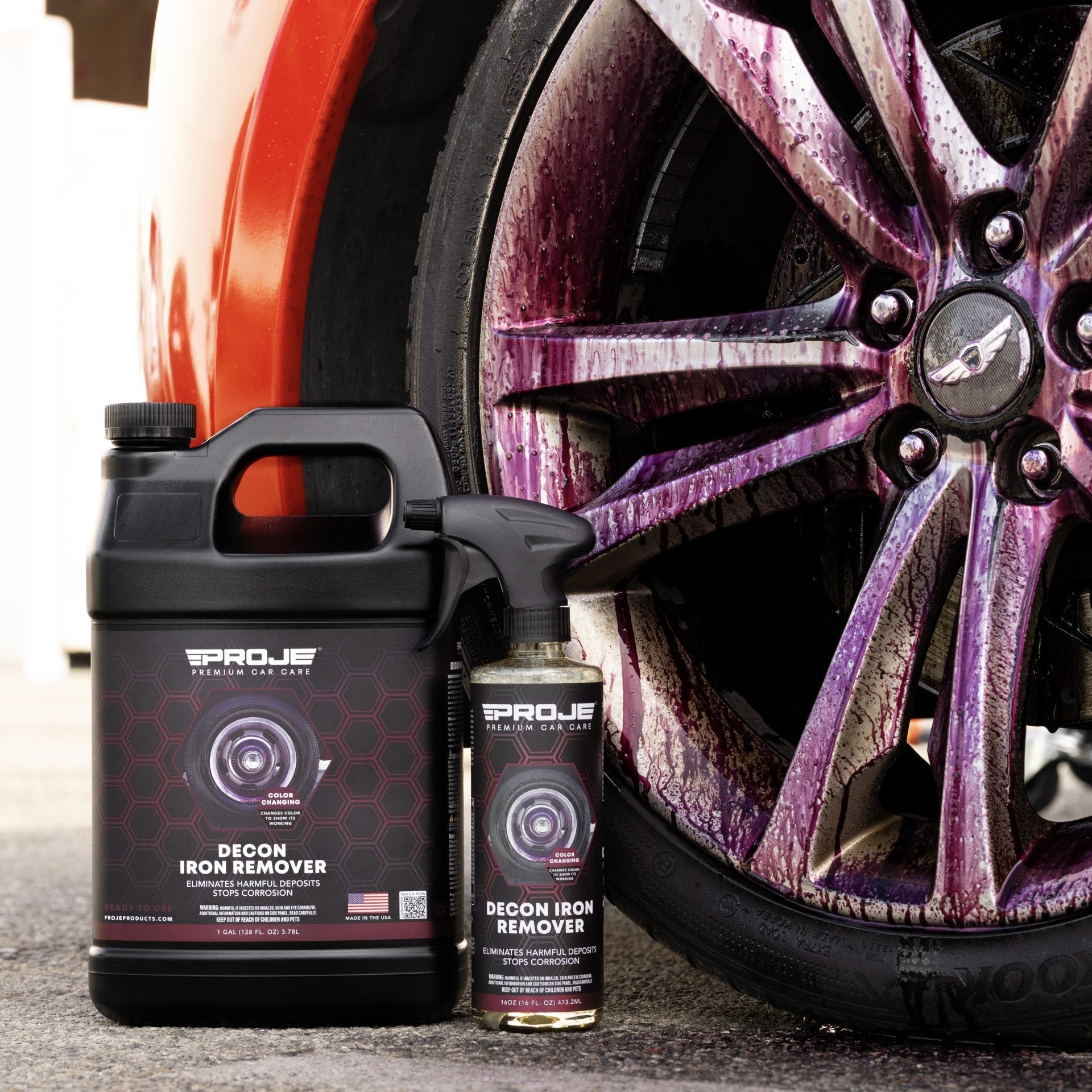 Decon Iron Remover
$14.99
Key Features: 
IRON & CONTAMINATION REMOVER - Advanced and versatile formula removes built up iron particles, brake dust, embedded iron contaminants and industrial fallout. Which can all be harmful and damage your vehicle's exterior surfaces. 

SAFE ON ALL SURFACES - The iron remover spray is ph-balanced which makes it safe on all external surfaces like your clear coated paint, gloss paint, trim, all types of rims, and glass. 

FAST AND EFFICIENT DECONTAMINATION SPRAY - The fast acting decon spray quickly and effectively removes built up iron and other contaminants ensuring there are no more hidden contaminants stuck to your car's surface even after using a clay bar.

RUST NEUTRALIZER - Effectively neutralizes the reactions that cause rust and paint failure cause by hot brake dust particles attaching to your paint and metallic surfaces.

COLOR CHANGING FORMULA - Wait up to 5 united to see the color changing formula turn to purple that's how you know the fallout remover spray is working. The deeper the purple means your vehicle had a high amount of iron deposits built up. A clear solution means your surface was clean.
Product Description: 
Iron Decon is specially formulated to be a pH-balanced solution that gets rid of embedded and bonded iron build-ups from brake dust and industrial fallout. It works on both visible and invisible deposit build-ups. The color changing formula lets you know when it's finished by turning a deep purple after a few minutes of being applied. This allows for more effective decontamination, ensuring that painted and metallic surfaces aren't left to corrode even after regular detailing services.
Why Proje?
Proje is a proud US Manufacturer based in Los Angeles County California. With more than 25 years of car care manufacturing experience, our passion has always been on providing quality products that provide quality results and keeping vehicle surfaces healthy and clean. Make the Process easier and enjoyable with Proje.
How to Use
Step 1
Before you apply Decon, make sure your car has been recently given a clean with an all-in-one external cleaning product like our Vital Car Wash Soap.
Step 2
Fully rinse the wheels so that excess, non-bonded dirt has been washed away. Now, mist Decon all over the wheels and rims.
Step 3
Wait around for a few minutes until the all-important color change. This is your signal that Decon has done its job and all the iron has separated from your wheels.
Step 4
Now's the time to act! Make sure you don't let Decon dry on your wheels as you don't want it to stain – you'll just have to go through the washing process again. Instead, as soon as the color change has happened, rinse it all away.
Step 5
The great news is that Decon can also be used on your paintwork! Take a look around your car, particularly towards the bottom for any tell-tale signs of iron build-up. Repeat steps 1-4 above.
Step 6
Now you've successfully removed all the iron build-ups on your paintwork and metals, carry on with waxing, sealing, and dressing. It'll be easier now that you have a cleaned slate to work from!
Reviews on TrustPilot, Amazon, and Facebook
William Smith
This takes the anxiety of when to buff off from "flash times." I purchased the prep and ceramic bottle bundle, and the process was extremely easy, leaving a deep and glossy shine. I saw the ad on social media and decided to give them a chance, I'm glad I did! I'll definitely be using their products for a long time.
Jane Sy
I was skeptical when I first saw the ad for the ceramic coating, I purchased a bottle and tried it and I was amazed by the results! I almost purchased a tiny bottle from another company for over $150 I am glad I came across this before I did! Yes I use proje products on my nissan skyline r32!!
Jack Bailey
This stuff is amazing. I've tried a few other sio2 coating and of course butter wax and things. But this stuff blows them all away! Awesome shine. Awesome hydrophobic properties. Nothing wants to stick to my truck now. Just wash away with water! Awesome product! I'm satisfied.